Forest rangers
Together with the red panda EEP breeding programme, Nordens Ark supports the Red Panda Network and its efforts to conserve the species and its habitat. Nordens Ark's backing goes primarily to the work in the Panchthar-Ilam-Taplejung (PIT) corridor in eastern Nepal.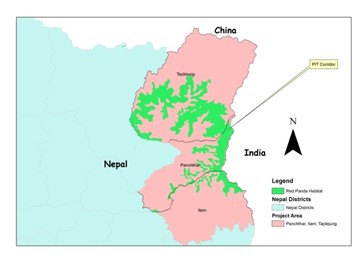 This region is important for many reasons. A quarter of Nepal's red pandas live here, and the area also acts as a vital link between the country's different populations. To save the red panda, local inhabitants are involved in various ways. Understanding and engagement from local people is a prerequisite in all conservation work.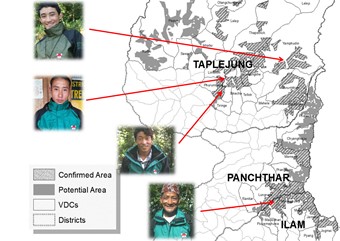 A key part of the Red Panda Network's efforts is its forest ranger programme. This is well established in the local community. Villagers are engaged in everything from research, selection of rangers and development of the local community, to tackling the various conservation issues such as illegal logging, poaching and so on, and finding lasting solutions to these problems. When a ranger has been chosen by the community, he or she first undergoes training and is then assigned an area of one square kilometre. Rangers are responsible for watching over the area and the red pandas that live there. They also act as ambassadors for the red panda. They work in their own communities to raise awareness of the threat faced by the species, as well as how the animals can best be protected. Today, 45 forest rangers from 18 villages are employed by the Red Panda Network. Many are part-time, but the aim is to be able to employ them on a full-time basis. This would benefit both the conservation of the red panda and the livelihoods of the rangers and their families. Nordens Ark is supporting these efforts. Here is a presentation from a few of the rangers the project supports: Panjo Lama, Indra Bahadur Gurung, Sancha Raj Limbu and Sumit Nugu Limbu.
Messages from the forest rangers
Letter from forest ranger Panjo Sherpa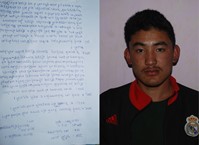 Hi
My name is Panjo Sherpa and I work as a forest ranger in Deurali Conservation Community Forest, Yamphudin-2. I'm also a student in Year 12. I've been involved with the Red Panda Network for two years. Himali Conservation Forum used to arrange different conservation programmes and activities in my village, so that's how I got in contact with them and learnt about the red panda. When they later wanted to employ local forest rangers to help with research and conservation of the species, I applied and was chosen to take part. When I was young, I learnt about the red panda. I learnt that it's a shy and endangered animal. Later, in the meetings and seminars organised by the Red Panda Network, I found out about the importance of the species and why we need to protect it. In my work, I also get a lot of inspiration from members in the Kangchenjunga Conservation Area. As a ranger, I am paid by the Red Panda Network, and this helps me continue my studies. Since I started working as a ranger, I've learnt how important wild animals and the forest are for all living creatures. The red panda's situation in the wild is critical, and it needs to be protected. This can't be done by single organisations or individuals alone – it will take partnerships between the government and local and international voluntary organisations.
Letter from Indra Bahadur Gurung, Chintapu Community Forest, Maimajhuwa, Ilam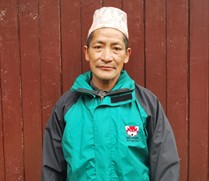 Hi
My name's Indra Bahadur Gurung. I'm a forest ranger in Chintapu Community Forest, Maimajhuwa VDC, Ilam, and have been doing this since 2008. It was the managers of Chintapu Community Forest who chose me as a ranger. The reason they picked me was that I know our forest well and I'm good at watching over the forest and the red pandas. When I found out that the red panda was endangered, I decided to become a forest ranger so I could help to save it. I am paid by the Red Panda Network, and that means I can feed my family and pay for my children's education. During my time as a ranger, I have seen that the panda's habitat has improved and that the number of red pandas in our forest is increasing. The is due mainly to conservation of the red panda's food, bamboo, and reduced poaching and a better awareness among foresters.
Letter from forest ranger Sancha Raj Limbu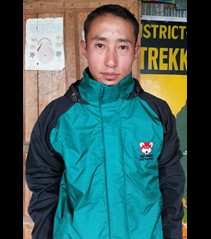 Hi
My name is Sancha Raj Limbu. I come from the village of Sikaicha, in Taplejung district. I've worked as a forest ranger for the Red Panda Network for two years. In this time I've learnt a lot about the red panda, why the species is important and why it is threatened. When I began to monitor the red panda I found out about its food and habitat. I have also learnt a lot from workshops the Red Panda Network has organised in my village. I'm very proud to be involved in the conservation of the red panda. By protecting the species, we're also protecting our forest, which gives us firewood and food for our cattle. My job as ranger has given me a chance to make good use of my free time and also earn an income that helps send my children to school. The conservation programme for the red panda should continue in my village, and there ought to be an information campaign in other settlements too.
Thanks!
Letter from forest ranger Sumit Nugu Limbu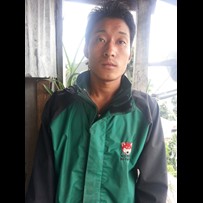 Hi
My name's Sumit Nugu Limbu and I'm a forest ranger from Phurmbu Kharka Community Forest of Phurumbu village. I am 24 years old. I'm married and there are four members in my family. My main occupation is farming. The job as forest ranger for the Red Panda Network has helped me support my family. I look forward to working as a ranger, because I have a good knowledge of our forest. I'm very happy to receive other support from the Red Panda Network, with field equipment. I've also learnt to use GPS in monitoring the red panda population.
Thanks!