Project for animal welfare
Nordens Ark and Hencol AB develop unmanned animal weighing for animal welfare


It can be a challenge to continually ensuring the best animal welfare for zoo animals and old land breeds that do not live in their original environment and cannot always be fed their original feed. The food cannot be perfectly adapted to each species, unless you can continuously observe and measure the effects. Examinations and weighing of timid animals also require that they must first be anesthetized, which is laborious and costly for the zoo and negative for the animals. Therefore, animals are anesthesized in zoos only for vital and urgent measures and not for weighing.

Digital technology helps detect health changes in time
The technology company Hencol AB has for several years developed methods for unmanned weighing of cattle in agriculture in weighing stations using electronic marking. A system has been developed to be able to detect small differences in weight and growth that are caused, for example, by illness. They are also working on supplementing weighing stations with other sensors in order to be able to detect early infectious diseases for better animal health. The user receives information about their animals directly in the mobile phone or on desktop.
Together with Hencol, Nordens Ark runs a project for precision weighing for animal welfare in agriculture and zoos where we jointly develop and demonstrate animal health functions from unmanned precision weighing of both farm animals and zoo animals. The project is financially supported by the European Agricultural Fund for Rural Development. The objective is partly to demonstrate to visitors and interested parties how digital technology can be used to develop animal welfare, and partly to develop methods that contribute to better animal welfare that continuously find indications and notify automatically so that care measures can be implemented as early as possible.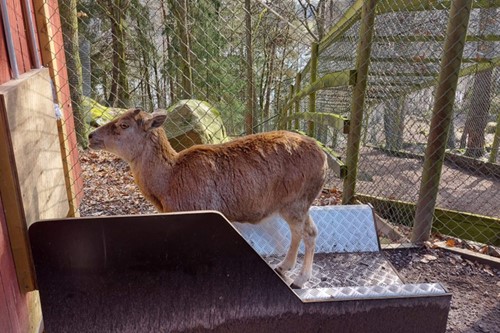 To get the sheep to get on the scale, we have put the scale right next to their water trough.

Weighing stations are demonstrated in the park

Since 2020, automatic weighing stations have been used with the endangered Tajik urial, as well as with cows and sheep of various native breeds, in the stable but also out in the pastures at Nordens Ark. Several of these stations are visible to visitors with information both in text and during special displays.

Since sheep are an animal species where unmanned weighing has never been used before, a lot of work has been put into the special design and placement of the weighing stations as well as the tuning of weighing parameters that are largely different from those for cattle. But with domestic sheep as a model species and test start, the technology can also be adapted for the wild sheep species, which are considerably more timid. The measurement values we get from the steppe sheep via the weighing station installed in their enclosure in the park are extremely important to calibrate the program in the right direction.