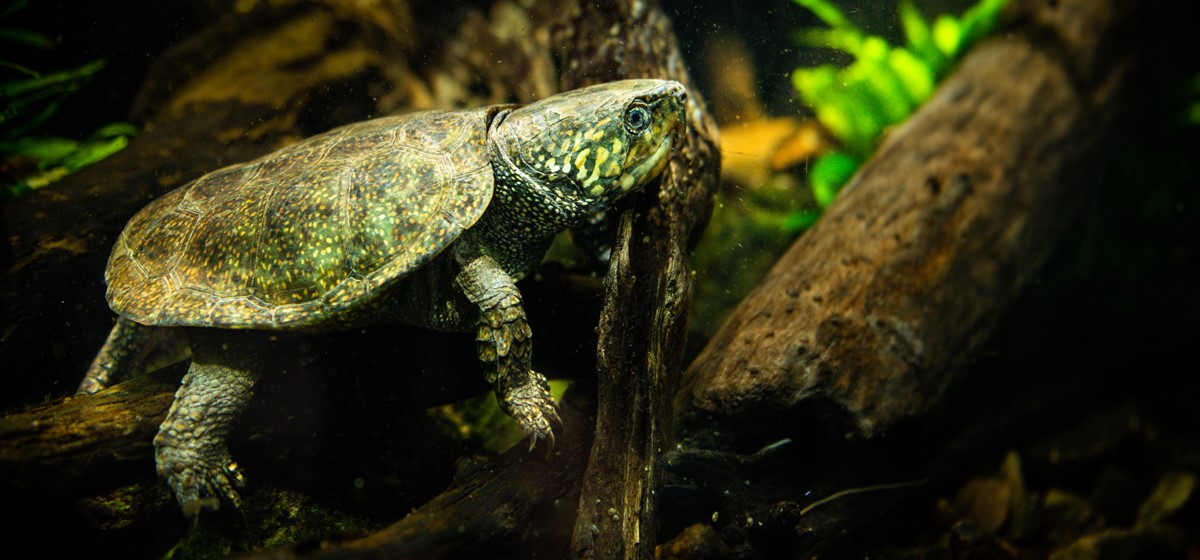 Big-headed turtle conservation
The big-headed turtle has a wide distribution area from the mountains of Myanmar, through northern Thailand, Laos, Vietnam, to southern China and northeastern Cambodia. From previously being common throughout most of its range, the big-headed turtle is now rare. The population is estimated to have declined by over 90% over the past 90 years and is today classified as Critically Endangered (CR) on the international red list.
The main reason behind the sharp decline is human activity, mainly through illegal trade. Big-headed turtles are captured and sold as food, but the species is also very popular in the exotic pet market due to its distinctive appearance. Recent years have seen a marked increase in the demand for big-headed turtles, which has led to more and more individuals being taken from the wild.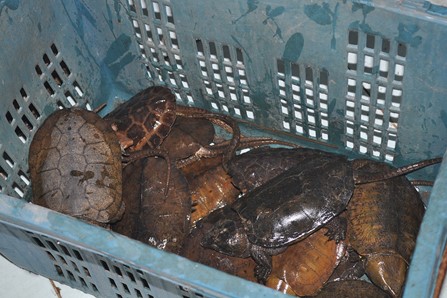 Big-headed turtles seized in the illegal trade. Photo: Pmec Soc Son Rescue
What we do at Nordens Ark
At Nordens Ark the Turtle Ark is being built, and it will be a sanctuary for some of the world's threatened turtle species, including the big-headed turtle. In the Turtle Ark, we will work to create long-term sustainable rescue populations for the species we keep. Nordens Ark is today one of the few parks in Europe that keeps big-headed turtles, something we hope to change. We want to get more parks involved in the conservation of the species in the wild by contributing to the rescue population.
Nordens Ark has also been involved in a conservation project for big-headed turtles in Vietnam. In the ground-breaking project, we collaborated with local actors in Vietnam to ensure that big-headed turtles rescued from the illegal trade can be released back into the wild. In 2020, the project could release a total of 100 big-headed turtles into protected areas in northern Vietnam. The released turtles were fitted with GPS transmitters to be able to follow their movement patterns and behavior after the release. In addition to reintroducing confiscated big-headed turtles to the wild, the project also works to develop methods and protocols for health control and rehabilitation, as well as increase knowledge and understanding among the local population of the species' importance in nature.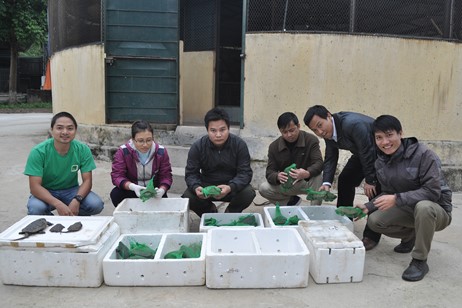 Big-headed turtles ready to be released into the wild. Photo: Pmec Soc Son Rescue

Updates from the project
The project in Vietnam is finished. Read more about it here or watch the video below.
In collaboration with

Asian turtle program, Zoological Society of London (ZSL), Paignton Zoo, the Centre for Natural Resources and Environmental Studies (CRES), Foundation Segreand the Swedish Postcode Lottery