Things to see in the Ecopark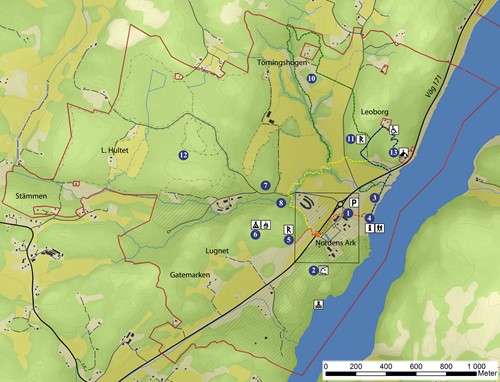 A map of the Ecopark and Ecopark walks is available at Nordens Ark Hotel
Things to see in the Ecopark 
Ancient fields – visible in raking light.

Åbyhällen – celebrated Bronze Age rock carvings. Accessibility adapted.

Veteranisation – experiments to age young oaks in a short time.

Waterfall – in a glorious deciduous forest setting.

Flateberget – moorland landscape with lovely views. Nature conservation burning took place here in 2013.

Skalbank – a small group of hepatica grow here.

Månsahagen – nature conservation burning of pasture and lands took place in 2013.

Fauna depot – modern method of boosting biodiversity with dead wood.

Bronze Age cairn – now forested burial places.

Stream ravine and waterfall – magical atmosphere and remains of a watermill.

Nordens Ark cliff – rock-climbing routes.

Passage grave and Nycander grave – family tomb adjacent to a Stone Age grave known locally as Glose Altar.

Viewpoint Varpet– impressive panorama over the fjord, Nordens Ark and the cultural landscape. Accessibility adapted.

Pollarding – here we're restoring meadows and pollarding trees for leaf fodder.

Shore meadow – annual mowing and grazing to promote flora and fauna.

Steamer jetty – steamers tied up here until the 1950s.

More signposted sights are to be found along the paths.