Wednesday, December 18, 2019
Can frogs survive in environments where the fungus that kills them is found?
This November, Kristofer Försäter from Nordens Ark went to the island of Montserrat in the Caribbean to work on this, together with the local Ministry of the Environment (DOE) and the Durrell Wildlife Conservation Trust.
It's been two years since the last mountain chicken frogs were seen in the wild on the island of Montserrat. Mountain chicken frogs have disappeared because of the chytridiomycosis disease caused by the fungus Batrachochytrium dendrobatidis (BD). The fungus, which thrives in moist environments, attacks the frog's skin and hardens it, making it difficult for the frogs to regulate their salt and liquid balance. Something that leads to organ failure and a sure death.
Since BD can not survive in temperatures above 30° C, a world-unique attempt to design their enclosures in a way that increases solar radiation has been initiated. It creates warm and dry places for the frogs to stay. In addition, the ponds are heated up to 31° C. Hopefully the frogs themselves, in case of illness, will seek out these places to "self-medicate" against the fungus. Since July, there are 27 chicken frogs in two large fences.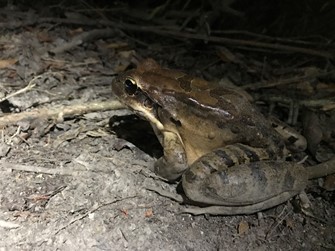 Mountain chicken frog on Montserrat. Photo: Kristofer Försäter
Previous release attempts of chicken frogs on Montserrat have shown that they stayed healthy longer during the rain season and shorter during the dry season. Probably due to the fact that during the rain season there are not as many still waters where the fungus can easily be spread between individuals.
At the end of November, the dry season has just begun on Montserrat and the risk for teh frogs in the enclosure to catch the chytridiomycosis and needing care is increasing. We can happily say we have not yet been able to detect any sick individuals and that they instead seem to thrive in the new enclosures.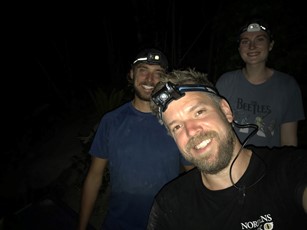 Kristofer with Luke Jones and Rachel Haynes at Montserrat. Photo: Kristofer Försäter
The trip turned out to be a real adventure with everything from engine failure on the ferry between Antigua and Montserrat to the to the prevention of a mass outbreak of dengue fever which threatened frogs as well as the insect breeding.
Increasing knowledge, commitment and awareness among schoolchildren when it comes to nature and environmental issues with extra focus on the chicken frogs is an important part of the work and visits to local schools were also included.
The trip ended with a long hike to Fairy Walk, the place where wild chicken frogs was last seen two years ago. The hike, which took place in difficult terrain, began in the afternoon in 30C heat and high humidity and ended late in the evening. Unfortunately, no frogs were observed during inventory, which reinforces the fact that there are probably no wild chicken frogs left on Montserrat and makes it even more important for this project to succeed.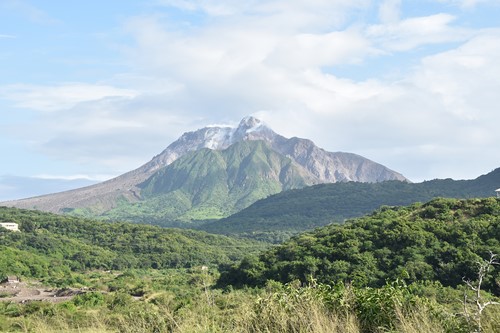 Soufriére hills volcano on Montserrat in the Caribbean. Photo: Kristofer Försäter