Honeymoon for the great Capricorn beetle
Yesterday the first female great Capricorn beetle of the year arrived at Nordens Ark from the nature reserve Halltorps hage on Öland, Sweden. She will be spending a month at Nordens Ark mating with our male beetles, and help saving the critically endangered beetle by laying lots of eggs.
-It might seem a little extreme crossing the country for one beetle, says Jimmy Helgesson who's in charge of the conservation project at Nordens Ark, but it shows how valuable each individual is.
This female is the first great Capricorn beetle to arrive for a honeymoon at Nordens Ark this year, hopefully there will be more, both male and female. After two years her young have become beetles and will be released into the wild.
In a month the female will be released again to the old oaks in Halltorps hage. Hopefully she will find new males and continue breeding there.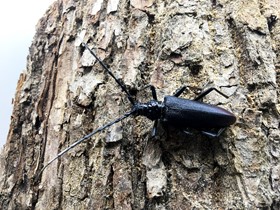 Female greate capricon beetle at Nordens Ark. Photo: Jimmy Helgesson