One step forward in the conservation efforts to save for the threatened Alpine beetle
Two years ago, the first alpine beetles arrived from Alpenzoo Innsbruck, Austria to Norden's Ark in Sweden. The mission was to develop a method how to breed these endangered beetles on a large scale which could then be used to release captive breed individuals in areas where they previously existed in Austria. This spring, the first four captive-breed alpine beetles hatched in the breeding center at Norden's Ark - a big step forward in the efforts to save the species!
The beautiful alpine beetle (Rosalia alpina) is probably one of the most charismatic and best-known beetles of the European Fauna, mainly because of its striking blue coloration and the black tufts of hair on each segment of the long antennae's. Sadly, this species have had a dramatic decline in several countries in the recent decades. The main reason for the population decline is the intensive use of beech forests to produce firewood and furniture wood, but also due to large-scale removal of dead wood.
In an effort to save the species, Alpenzoo Innsbruck in Austria and Norden's Ark in Sweden started a joint conservation project focusing on captive breeding.
"The Alpine beetle is a great ambassador not only for himself but also for a very special habitat- the deadwoods. This habitat is unfortunately threatened (like many others) but with this joint project between us we are taking the chance to restore this habitat and to hopefully soon reintroduce this lovely species. Who could tell the story if not a nice blue beetle?" says the Dr. André Stadler, Director of Alpenzoo Innsbruck and co-initiator of this project.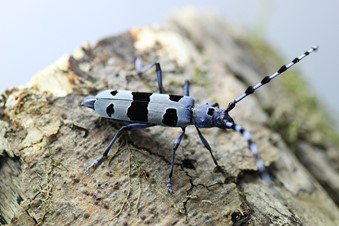 Alpine beetle. ©Jimmy Helgesson, Nordens Ark​
In early June 2019, the first five individuals arrived from Austria. After they settled down they immediately began to mate and lay eggs. Eggs that have now hatched and developed into adult beetles. Norden's Ark long experience of working with captive breeding of other long-horned beetles, such as the greater Capricorn beetle, has been invaluable in the development of the breeding method for the alpine beetle.
It is fantastic news, says Jimmy Helgesson who is responsible for the breeding project at Norden's Ark. As far as we know, this has never been done before. The fact that we have now managed to rear alpine beetles from eggs to adult beetles is proof that we are on the right track of developing a method. Finding good methods for breeding endangered beetles such as the alpine beetle is important and could be an essential tool to save them from extinction.
Now the trial and error continue, and the newly hatched alpine beetles have already mated. Hopes are that the first eggs of these captive breed beetles will be laid in the upcoming weeks.
In the meantime suitable areas were identified and prepared in Tyrolia, Austria in possible habitats for reintroduction projects in the future.