Friday, July 21, 2023
The first rattle grasshoppers have been released into the wild
At the beginning of the summer, the first rattle grasshopper hatched at Nordens Ark and now our work begins to re-establish the species in the wild.
To help boost the wild population of the endangered rattle grasshopper we are undertaking a conservation breeding programme for the species. The purpose of the new breeding programme is to breed enough rattle grasshoppers to be able to release them into new, suitable habitats.
Yesterday it was time to release rattle grasshopper in the wild for the first time, Almost 300 individuals were released in Horsvik nature reserve in Nyköping municipality. The releases were made together with staff from the County Administrative Board of Södermanland and Nyköping Municipality. Immediately after the release, a large number of males could be seen playing flying. Mating and egg-laying are also observed.
-It was great fun to see the males jump and fly around with their bright red wings, says Jimmy Helgesson, who is responsible for the locusts at Nordens Ark. The fact that females immediately started laying eggs in the sand gives hope that the release will produce results.
After the eggs have been laid, it will now take two years before they hatch into new small grasshoppers and it is only then that we can get a receipt of how this year's release has gone.
-It is important to be patient when working with endangered species, Jimmy continues. It is a long-term work and many times it takes several years before you see any results but the one who is waiting for something good.

Rattle grasshopper. Photo: Jimmy Helgesson
Facts
The rattle grasshopper is 2 - 4 cm long, which can vary a bit in color may seem inconspicuous in appearance, but when the males fly, their bright red wings are clearly visible. During the flight, a characteristic rattling (drumming) sound is heard, which gave the species its name.
Reproduction in the rattle grasshopper occurs during July-September. After the eggs have been laid in the ground, they then lie dormant for two years before hatching into a 3 - 4 mm long nymph in May-June. The rattle grasshopper was previously common in large parts of southern Sweden decreased during the 1900s by as much as 70% when the open landscapes disappeared in connection with agriculture and forestry was converted to a more large-scale and industrial one.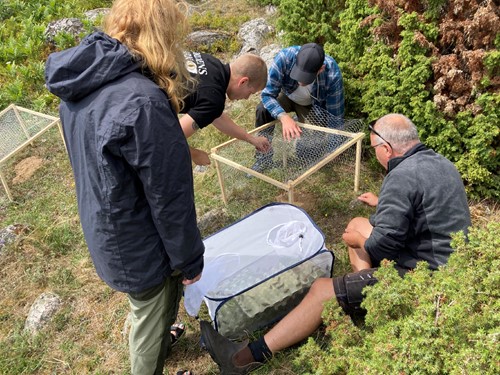 Rattle grasshoppers released into the wild. Photo: Emma Nygren

The work is carried out on behalf of the County Administrative Board of Södermanland County, which is also the national coordinator for the action program for the species. The project is carried out within the framework of work on action programmes for endangered species.