Friday, February 5, 2021
Record number of visitors in January
In many parts of the world organizations working to save endangered animals are struggling right now. For many, visitor fees are an important part of the financing. In the wake of covid-19 and the current shutdown, it is often financially tough.
Nordens Ark is a non-profit foundation and each and every visitor at the park contributes to our work to save endangered animals. Therefore, it is extra gratifying to see that people in these times continue to support our work, that visitors continue to come and that we can continue to keep our park open.
Being able to communicate the threats many of the species faces and what is being done to keep them in the wild is an important part of what we do.
2021 has started as 2020 ended - with restrictions and limitations. But there is hope. Never during our thirty-three-year history have so many people visited Nordens Ark in January! We keep our fingers crossed and how February will be as good, especially now that the weather gods are with us and offer a spectacularly beautiful winter landscape - a weather perfect for many of the animals in the park.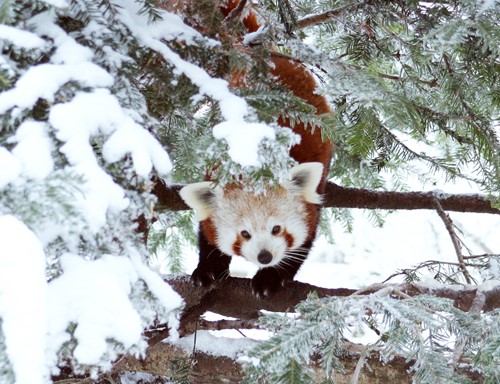 Red panda in a snowy tree at Nordens Ark. Photo: Jenny Magnusson