Wednesday, February 16, 2022
The stork has arrived! – or more specifically 32 white storks arrived from Poland
Yesterday, 32 white storks arrived to Nordens Ark from Warzawa Zoo. The majority of the birds will be moved to the Stork project in Skåne in the south of Sweden. Ten storks will stay and be part of the breeding project at Nordens Ark.

These storks has for various reasons been taken care of for rehabilitation and could not be released back into the wild. Several of the storks have wing injuries received from flying into power lines or from being intentionally shot.  

"High-voltage power lines are a major threat to many large bird species and one of the most common causes of death for the white stork," says Emma Nygren, conservation coordinator at Nordens Ark. These storks have been given a second chance and are an important addition to the work to save the storks in Sweden as their young will be released into the wild.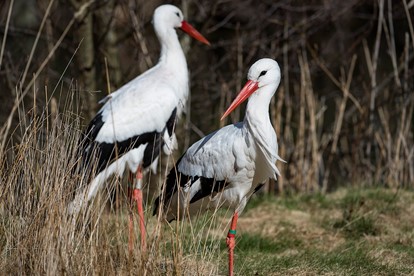 White storks on Nordens Ark. Photo: Ola Jennersten

Nordens Ark has for many years collaborated with the Stork project in Skåne, which is working to bring back a wild and migratory stork population in Sweden. Every summer, during the annual stork release, about a hundred white storks are released preparing to move south together with the wild birds. There they stay for a couple of years before moving back to Sweden to breed. The migration is the major threat and a lot can happen and many storks perish along the way.

"There's a lot more we need to to before wi can feel satisfied and for the white storks to be considered saved in Sweden," continues Emma, "and these 32 storks are an important part of that work".