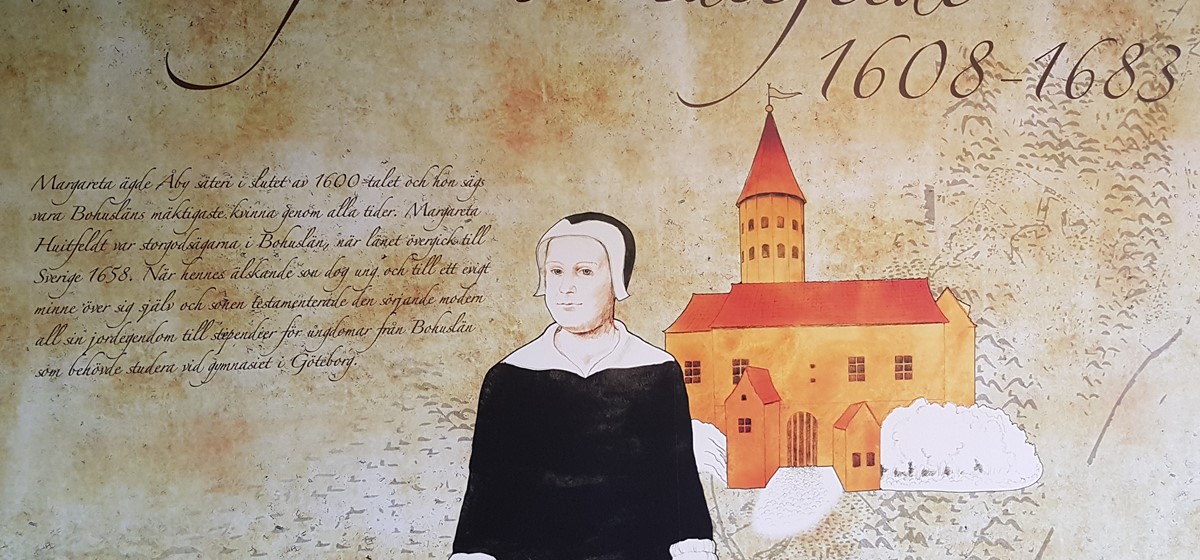 Margareta Huitfeldt 1608-1683
Thought of as one of Bohus county's most distinguished women. In her time, she was counted among the richest people in Bohus. The widow of Danish nobleman Tomas Dyre, Margareta was a member of the Bohus nobility when she bought Åby in 1661, thus becoming one of the major landowners in Bohus county. At that time the estate comprised the main manor (today's manor house) together with some 20 dependent farms in Tossene parish. It wasn't only these farms that were managed by Margareta. She owned farms in most of Tjörn and down to Hisingen and northern Halland. It was said that she managed her farms 'with wisdom, thrift and meticulous care'. Margareta lived on her farm, Sundsby manor, at Tjörn and it is there she preferred to be, and where most of the correspondence she left is dated. From time to time she stayed at Åby manor, and she is said to have had her own bench at Tossene's old church.
Margareta and Tomas Dyre had three children, the first of whom, a daughter named Bente, lived for just three weeks. Their second child, Hartvig, died at eight years old. Five years after Hartvig's death, Margareta also lost Tomas and became a widow at the age of 43, alone with their son Ivar who was seven when his father died. Tomas was interred in the newly built chapel at Valla church in Tjörn, where you can still see the coffin today, as well as those of Bente, Hartvig, Ivar and Margareta herself.
Margareta was left with just her son to help her cope with her emptiness and loss. She employed a schoolteacher to take charge of Ivar's education and later enrolled him at Sorö boarding school at Själland, where his father Tomas had also studied. At that time, boarding schools were like colleges where princes, noblemen and the sons of the bourgeoisie were trained to be civil servants. After completing his studies there, Ivar returned to his mother at Sundsby manor in 1659. Ivar succumbed to a 'severe fever' at the age of just 18 while on an educational and study trip to the university town of Montpellier in the South of France. Ivar's last wish to his mother Margareta, conveyed in a letter from his teacher, was that after her death, part of his inheritance, or a sum of money, should be invested and the yearly interest donated to poor schoolchildren and young students.
Ivar's funeral service was held at Uddevalla church in January 1664, and Margareta's will, signed on January 22, in effect meant that the entire estate would be donated to a scholarship foundation. It was then the largest gift of land in Sweden since Gustav II Adolf's donation to Uppsala University. Through her will, Margareta honoured the memory of her lost son and also secured the future of the Hvitfeldt estate lands. The money would be used to support young people from Bohus county who wanted to study at college (later the University of Gothenburg).
When Margareta passed away in 1683, the new foundation came into being and for 300 years Åby was one of the two principal farms in the Hvitfeldt scholarship institution. In 1975, Åby manor was bought by the Swedish Rural Economy and Agricultural Society, which in turn sold the estate and associated lands to Nordens Ark Foundation in 1996. As a tribute to Margareta and her influence on the estate, we dedicated one of our conference rooms at the hotel in true Margareta spirit. The wallpaper depicts Margareta holding the keys to all her possessions. The castle-like building is today's manor house, and on the wallpaper you can also see an oil painting by Gustaf Brusewitz showing Margareta dictating her will on January 22, 1664. The wallpaper was funded with the support of Region Västra Götaland.