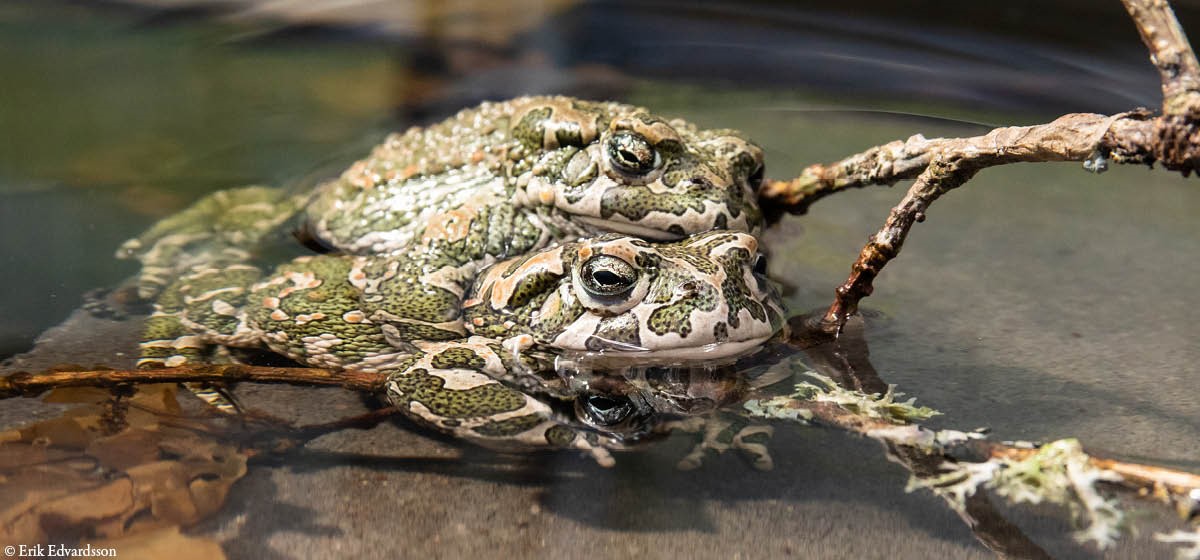 Green toad
The green toad was at one time fairly common in coastal areas in the south and south-east of Sweden. Today, the species is our most endangered amphibian and is classified on the Red List as Vulnerable.
There are many reasons for the species' decline, including eutrophication and overgrowth of once nutrient-poor open land, lowering of groundwater and drainage of spawning grounds, deteriorating water quality, and the introduction of fish and crayfish in many ponds. Following surveys and restoration of a number of habitats, breeding and releases have taken place at many sites within the species' former known range. However, the results have not been as good as for many other threatened amphibians.
Nordens Ark has been involved for many years in conservation of the green toad. We have successfully reared larvae, newly metamorphosed and adult toads which were released in Skåne, Blekinge, Öland and Gotland. From 2009 the releases were concentrated on Öland, principally the southern headland, and a bird sanctuary near Högbyhamn on the island's north-eastern side. In 2017 a record number of 4600 green toads (a mixture of adults and youngsters) were released. In the vild many sightings have since been reported and spawning has occurred repeatedly. This means there is now a small but viable population on Öland's southern tip. In Högbyhamn, two over-wintering places were created to make sure that the released toads would get through the winter. At both sites on Öland, restorations have taken place with new shallow spawning grounds.
All the toads are raised at Nordens Ark in a quarantine facility. Nordens Ark have permission to annually collect egg strings from wild green toads in Limhamns limestone quarry in Skåne (without harming the resident population). The eggs are then transported to Nordens Arks breeding facility. Eggs and larvae are kept indoors to maximise survival. The juvenile toads are then gradually introduced to a more natural environment outdoors and fed with a variety of small insects. Before the toads leave Nordens Ark to go to the release area, they are tested and declared free of the fungal disease 'chytrid fungus' and Ranavirus, and are photographed to enable us to identify them in the event of future sightings.
Chytridiomycosis is a global treat for the worlds amphibians. Read here what you can do to Avoid spreading infectious amphibian diseases.
In collaboration with
Kalmar county administrative board and the Swedish Postcode Lottery.