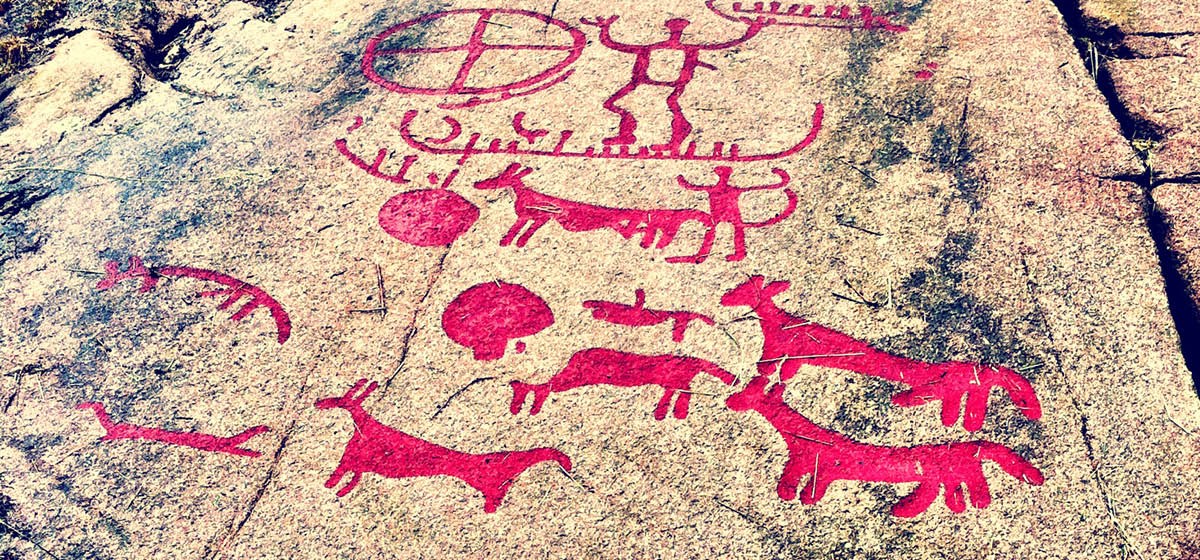 Culture in the Ecopark
Åbyhällen
Åbyhällen is one of Bohuslän's best-known and impressive rock carving sites. It was discovered in 1967 by Göran Andersson and comprises a steep rock face with some 120 figures. Most of the motifs are typical of many other celebrated rock carvings, with animals, people, ships and cup marks, but several images are unique to the region, among them animal tracks thought to represent wolf paws.
The carvings were made during the Bronze Age more than 3,000 years ago. They include Bohuslän's oldest carving of a ship, dating from 1700 BC. It is believed the pictures were used during ceremonies and were filled with fired clay (red ochre). The present red colouring is there to protect them. It is forbidden by law to walk on the carvings or otherwise disturb them. Around Åby manor there are relics from all the prehistoric periods. People have lived here for at least 6,000 years, but it was the Bronze Age that left the biggest mark on the landscape. Other visible relics from this period include barrows, passage graves, burial mounds, stone circles, funeral pyres, stone ships and petroglyphs. Åbyhällen is disability-adapted, entrance from the park via Nordic bee.  
Oak avenue and 'old oak'
Along the Åby fjord there's a lovely oak avenue that marks where the old country road ran towards Åby manor. The avenue is thought to have been replaced over time with younger oaks. The trees you see today were planted some time in the 1700s, during a period (The Enlightenment) when it was important to project one's wealth, ambitions and education. At that time there was also a gatehouse by the shore that greeted passing travellers, while the oak avenue led up to the main house. Oaks can grow to a great age – more than 700 years. The oak by the Åbyhällen petroglyphs is almost 400 years old. As oaks age, many small animals move into the hollows, bark and wood. Gradually the tree becomes so hollow that owls, jackdaws and bats are able to nest in it.
'Nordens Ark rock'
'Klätterklippan' is a 40 metre high cliff facing towards Nordens Ark. The cliff is popular with climbers from all over Sweden and is often called the 'Nordens Ark rock', but its real name is Törningshogen. The cliff is south-facing and flat, with long hair cracks, and is considered to be relatively easy for lead-climbers. Bear in mind that only natural aids may be used on the cliff. The best way to reach the rock is to park your car at Nordens Ark and hike the 1km or so to the cliff. Remember not to cross any fields, and to respect local residents. 
The Nycander burial site
Lieutenant Axel Nycander and his wife Augusta were tenants at Åby manor in the latter half of the 1800s. They lived on the farm for 47 years and had six children together. One of these children was Fredrik Nycander, known as the 'poet of Bohuslän'. The entire family and some of the employees lie buried here at Solliden Hill, one of five private cemeteries in Bohuslän. Fredrik grew up at Åby and his poetry often refers to his childhood home:
And Hemkär stood once more on the beach of his childhood,
My journey I can never forget,
But dearest is fairest, and most of all the land
that taught us to love and to dream.
My eyes became wet, when I met my ocean.
Yes, this was my cradle, and this might have been my grave
My ashes under the linden trees to hide.
The last verse of 'Hemkär', by Fredrik Nycander.
That the burial place lies next to a Stone Age tomb is no coincidence, since the late 1800s were a romantic period when many people embraced Sweden's history. 
The Glose altar passage grave
This type of tomb is called a passage grave, and this particular one has long been known locally as the 'altar of Glose'.
Today the tomb is sealed by an earthy mound that probably originally covered the whole grave. It consisted of two chambers, and while it was in use it may have been open, with only a removable stone being used to close it. Inside the passage grave, the deceased might be placed alone, or their ashes in urns might be sorted into different compartments.
The grave was in use about 5,000 years ago during the Neolithic period. At that time, the sea level was around 20 metres higher than it is today, and the passage grave lay on an isthmus that would later become the Åby fjord. This would have signalled to others that the area was inhabited. The tomb is said to have been excavated and pottery, flint and a slate pendant were among the discoveries. 
Varpet viewpoint
Varpet viewpoint was opened in the spring of 2013. From Nordens Ark's gravel car park, hike along the Soteleden trail and Åby fjord towards Leoborg, then continue further up a fell, or small mountain, which boasts fabulous views over Åby fjord and Nordens Ark. The route is accessible to those with disabilities, and there is a barbecue area at the top. Don't miss the old pines standing there. When one of them germinated in 1832, the landscape looked rather different from the way it appears today. This rock and the surrounding hills were largely bare, with just a few pines and small shrubs. We know this because the trees' growth rings have been studied in a dendrochronological survey. 
Steamboat wharf
For more than a century, between the 1840s and 1950s, steamboats plied the coast of Bohuslän carrying goods and passengers. On the Åby fjord by Nordens Ark, you'll see the jetty where the steamers tied up. The wharf was where people got together to buy supplies and catch up on news. There were chemists, off-licences and hospitals in Lysekil, Uddevalla and Gothenburg. Anyone 'heading into town' would quite often shop for several families. At one time at the Åby wharf there was also a boathouse, where goods could be stored until they were ready for shipping. In 1907, a round trip on the steamer Albert Ehrensvärd from Gothenburg to Skagen in Denmark cost 6 Swedish kronor. The steamer called at Marstrand and Lysekil en route. 
The crofting tradition
Nordens Ark Foundation bought Åby manor with its associated 383 hectares of land in 1996. At one time there were 26 crofts on the manor's lands, though some are now only ruins. Most date from the late 1700s to the early 1900s. Usually, the occupiers didn't own the croft themselves but were tied to a profession, either civilian or military. In the 1860s there were more than 100,000 crofts in Sweden. Crofters were the country's second-largest population group, outnumbered only by farmers. Crofters on the manors were exempt from army service. Leoborg croft is shown in the records from 1851, but had been occupied since 1810. In 1851 it covered 1.76 hectares and had one cow and four sheep. The crofter was obliged to provide two days' labour to Åby manor every week.